Celestia Necklace
Inspired by the quote "No matter where you are in the world or what you're doing, we all sleep under the same moon and stars".

This intricate pendant features a crescent moon and star sitting in harmony. This piece is set with 8 white diamonds and rests delicately on a 9k gold curb link chain.
Celestia will fill your heart with the magical essence of starlight under a new moon.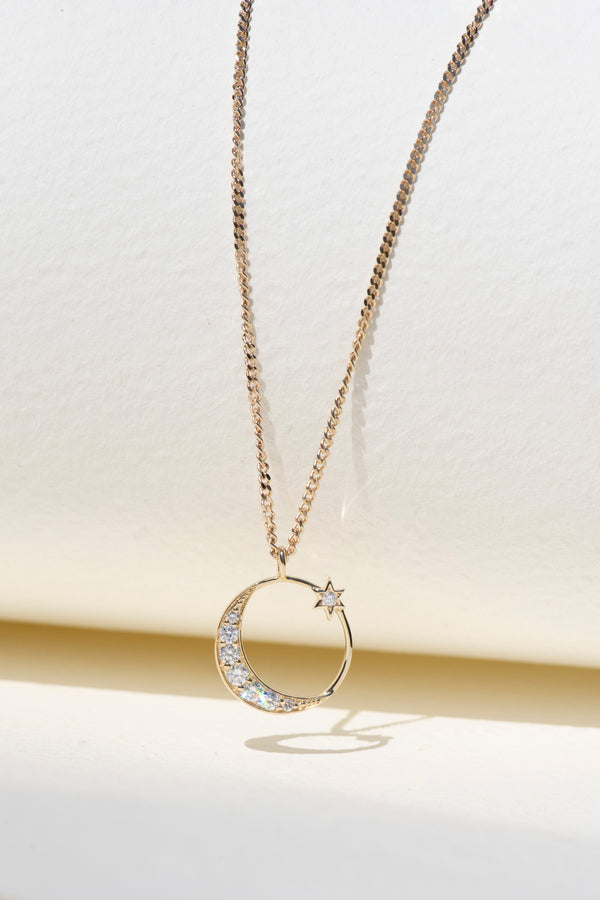 | | | | | | | | | | |
| --- | --- | --- | --- | --- | --- | --- | --- | --- | --- |
| UK | 4 | 6 | 8 | 10 | 12 | 14 | 16 | 18 | 20 |
| ITALY | 36 | 38 | 40 | 42 | 44 | 46 | 48 | 50 | 52 |
| US | 00 | 0 | 2-4 | 4-6 | 8 | 10 | 12 | 14 | 16 |
| FRANCE | 32 | 34 | 36 | 38 | 40 | 42 | 44 | 46 | 48 |
| | | | | | | | | | | | | | | | | |
| --- | --- | --- | --- | --- | --- | --- | --- | --- | --- | --- | --- | --- | --- | --- | --- | --- |
| UK | 1 | 1.5 | 2 | 2.5 | 3 | 3.5 | 4 | 4.5 | 5 | 5.5 | 6 | 6.5 | 7 | 7.5 | 8 | 8.5 |
| EU | 34 | 34.5 | 35 | 35.5 | 36 | 36.5 | 37 | 37.5 | 38 | 38.5 | 39 | 39.5 | 40 | 40.5 | 41 | 41.5 |
| US | 4 | 4.5 | 5 | 5.5 | 6 | 6.5 | 7 | 7.5 | 8 | 8.5 | 9 | 9.5 | 10 | 10.5 | 11 | 11.5 |
| | | | | | | | | | | | | | | | | | |
| --- | --- | --- | --- | --- | --- | --- | --- | --- | --- | --- | --- | --- | --- | --- | --- | --- | --- |
| UK | 5 | 5.5 | 6 | 6.5 | 7 | 7.5 | 8 | 8.5 | 9 | 9.5 | 10 | 10.5 | 11 | 11.5 | 12 | 12.5 | 13 |
| EU | 39 | 39.5 | 40 | 40.5 | 41 | 41.5 | 42 | 42.5 | 43 | 43.5 | 44 | 44.5 | 45 | 45.5 | 46 | 46.5 | 47 |
| US | 6 | 6.5 | 7 | 7.5 | 8 | 8.5 | 9 | 9.5 | 10 | 10.5 | 11 | 11.5 | 12 | 12.5 | 13 | 13.5 | 14 |